You need the quietest air rifle for hunting or shooting game. A quiet air rifle will give you a higher success rate in shooting just about any kind of game such as birds, small mammals, and etc.
And aside from being less noisy, this kind of rifle is safer and provides the best performance for hunting and shooting.
If you're searching for a silenced air rifle, then you're in luck. We have six of the quietest air rifles on the market for you.
These are silent or whisperer pellet guns that are lightweight and equipped with enhanced features like advanced optics and scopes.
And if you check these air rifles out more closely, these are among the most affordable as well.
Preview
Brand/Model
GAMO Whisper Fusion Mach 1
Benjamin Marauder Wood Stock
Gamo Silent Cat air rifle
Benjamin Marauder Synthetic Stock PCP
Preview
Brand/Model
GAMO Whisper Fusion Mach 1
Preview
Brand/Model
Benjamin Marauder Wood Stock
Preview
Brand/Model
Gamo Silent Cat air rifle
Preview
Brand/Model
Benjamin Marauder Synthetic Stock PCP
6 Quietest Air Rifles on the Market-Reviewed
Take a look at these six top, whisper-quiet air rifles. Weigh the pros and cons of each product, take note of the characteristics and different features of each rifle. Don't forget to compare two or more products to find the best one that's right for your needs.
Pros
Powerful and quiet
With Whisper Fusion technology
Accurate with an enhanced muzzle velocity
Long lifespan
Delivers higher terminal penetration
Cons
Bulky and too long
Poor quality stock scope
What Recent Buyers Report
Overall, consumers agreed that this was indeed the quietest pellet gun they'd ever had. It is a well-made gun that's quiet and with incredible precision. Many say that it is compatible with many types of pellets, and this has made it even more popular.
The sound was compared to an audible "thunk" when it's fired but not loud as other rifles are.
Why It Stands out
The whisper pellet gun stands out because of its efficient and powerful IGT technology. This has replaced the regular spring power plant with a more convenient and silent inert gas cylinder. And this cylinder provides improved velocity and penetration and thus is more effective than other silenced air rifles.
Who Will Use This
For perfectionists who are looking for the quietest pellet gun for neighborhood target practice, this one's for you. This is also for outdoorsmen who want a quiet, easy to use and penetrating air rifle.
Because it's less intimidating than others, this will also be great for beginner shooters to practice on. Finally, it's for hunters who want to make the most of their efforts. Because it's quiet, you can easily sneak up on your prey and get the best results.
What Could Be Improved
As with other quiet air rifles, the Whisper Fusion Mach 1's design may still be improved significantly. Some people say that it's too heavy at 8 pounds and too long at 46.5 inches. Reducing its size and weight can dramatically improve its usability and user comfort.
Bottom Line
This suppressed air rifle is from a trusted brand and provides a higher velocity, power while maintaining silence. It's guaranteed to suit all your different kinds of hunting and shooting applications.
Pros
Shrouded barrel for improved accuracy
Has resonance dampening
Great for predator and small game hunting
Quiet and balanced wood stock
Cons
What Recent Buyers Report
Rated one of the best nitro piston air rifles, most consumers testify that this PCP rifle is a must-have. Many recommend this air rifle because it's quiet, well-built, and maintains great accuracy. Reports from users who couldn't stop praising it for helping eliminate their pest problems were common.
Why It Stands out
This suppressed air rifle is a .177 caliber pellet air rifle that stands out from several top air rifle brands for a number of reasons.
It features a balanced wood stock with a shrouded barrel to improve accuracy and offer better resonance dampening. Many recommend this quiet gun for target practice or target shooting, pest control, and pest hunting.
Who Will Use This
This pellet rifle is intended for people who are looking for a balanced, quiet, and accurate air rifle. It is for those who want to up their game when it comes to target shooting and small game hunting. For people who wish to exterminate pests in their garden safely and to protect their crops or farm animals, this is your go-to rifle.
What Could Be Improved
Small improvements like making lighter models are sure to make it even more impressive. Most say that it's almost perfect for target shooting, and if you can't find compressed air, then you may use nitrogen instead.
Bottom Line
If you're looking for a reliable, accurate, and quiet air rifle, then this one's for you. It proves to be a good air rifle to use for hunting and shooting games and garden pests. From novice users to hobbyists, this quiet pellet rifle will meet all your needs.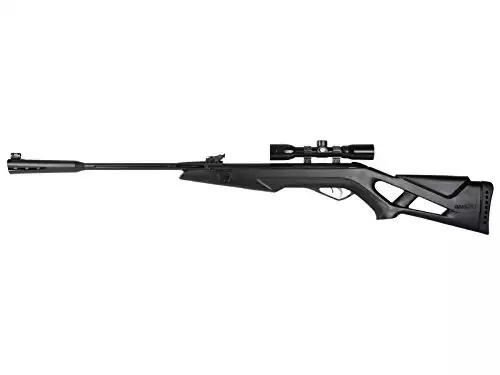 Pros
High velocity
Lightweight
Impressively powerful
Comes with a rifle scope
Quiet with noise dampener
Cons
Difficult to charge the barrel
Heavy trigger
What Recent Buyers Report
Most who have had the chance to commend the fact that it's lightweight and quiet and recommends using Gamo pellets instead of generic pellets. Praises for the ease with which it took to cock back and reload were also common.
Some were not impressed with having to pump and load, but aside from these, they recommend this air rifle for shooting game or pests very quietly and accurately.
Why It Stands out
This whisper pellet gun is incredibly silent, which is the main reason why many think that it's perfect for hunting and frightening garden pests. It is one of the quietest air rifles for neighborhood use. Another reason why this rifle is favored over other air rifles is that it's light and easy to cock, two of the most common features that air rifle users look for.
Who Will Use This
The Gamo Silent Cat is a quiet air rifle that's made for hobbyists. It's perfect for target practice and for improving your accuracy and aiming. Specially made for the serious pest control user, it's great for getting rid of common garden vermin and pests. It's also for the outdoorsman who wants to shoot small game and birds.
What Could Be Improved
Though indeed silent, remodeling it to make it easier to mount would enhance this rifle's capabilities.
Bottom Line
This is by far the quietest air rifle for neighborhood shooting. Its lightweight and whisper-quiet feature on top of its commendable accuracy makes it every gun owner's dream. All outdoorsmen, hobbyists, and pest control professionals who want an efficient, easy to use, and quiet air rifle will find this handy.
Pros
Comes with an impressive rifle scope
Improved trigger
Precise and quiet
Nitro piston
Cons
What Recent Buyers Report
Most of the users agree that this air rifle is smooth and accurate. Some were amazed that they were able to use this rifle with a variety of branded and generic pellets with the best results. Users commended how the rifle scope was handy and recommended changing or upgrading the rifle scope for extreme accuracy.
Why It Stands out
This nitro piston stands out because it's more than just a silent pellet gun with a scope. It is a .177- caliber pellet rifle that can handle 1400 FPS and comes with an improved Nitro Piston 2 break barrel. Enhanced features like a 2-stage trigger, precision steel barrel, and noise suppression are also highly creditable.
Who Will Use This
This will be highly recommendable for people who regularly engage in target shooting or target practice. It is accurate and astonishingly quiet, two crucial qualities that outdoorsmen look for in an air rifle. It is also useful for pest control as it shoots far and in the most accurate manner.
What Could Be Improved
This air rifle has a good body but is heavy and thus uncomfortable, especially for novice users. Improving its weight can significantly enhance its handling and, therefore, will make it easier to cock and aim the rifle.
Bottom Line
This rifle comes with a good scope and is quiet compared to other guns with the same flavor. Despite its substantial weight, it remains very efficient, with profound accuracy and reliability.
Pros
Lightweight stock
Ambidextrous design
Well-balanced
Internally shrouded barrel
Easy and quick to fill
Large platform for larger rifle scopes
Cons
What Recent Buyers Report
Almost all the users commend this air rifle saying it's an excellent purchase. Some of the impressive qualities mentioned were its exceptional accuracy, and how ideal it is for small game. Overall, it's one of the best air rifles because it's quiet and can be used for any shooting hobby or target practice.
Why It Stands out
There are many reasons why this air rifle stands out. First, it is built with a rugged, synthetic all-weather stock. This makes it flexible and easier to use. It is ambidextrous and comes with a fully-adjustable and raised comb for ease of use. Finally, it's balanced but heavy, still a good air rifle to take to the field.
Who Will Use This
This silent pellet gun is for people who need a flexible and adjustable rifle for a hobby or sport. It may not be appropriate for first-timers because of its substantial weight. For pros, it's fun and accurate to use when shooting small game or when taking care of pesky small rodents and mammals in your vegetable garden.
This is the best .22 pellet air rifle for hunting.
What Could Be Improved
As always, the weight of the air rifle should be enhanced or another type of material used to reduce its weight. It's more enjoyable and less straining on the shoulders, arms, and back when you're using a lighter rifle.
Bottom Line
This is a hunting, hobby, and pest-control air rifle that maintains the standard of impressive precision and muffled shooting. It's made from an advanced, versatile synthetic stock, is ambidextrous, and is adjustable.
Pros
Has inert gas technology
Fewer vibrations
Very quiet
Shockproof scope
Lightweight rifle
Cons
What Recent Buyers Report
Many say that it's accurate, lightweight (weighing a little over 7 pounds), and is easy to handle. You won't be disappointed by the gun's performance when applied to your different activities.
Why It Stands out
This silent pellet gun stands out because of its updated IGT that takes the place of spring mechanism to provide enhanced terminal velocity at 1300 fps. It has an ambidextrous stock, and thus it's versatile, and of course, it's lightweight and, therefore, ideal for all types of users.
And this also comes with SAT or Smooth Action Trigger for more precise results.
Who Will Use This
This is ideal for users involved in pest control and recreation, hunting, though not as much when it comes to target and competition. For all avid hunters and those burdened with pests, this will make a great addition to your collection.
What Could Be Improved
Compared to other air rifles, the noise may be improved by enhancing its design or by using Gamo pellets and not generic pellets.
Bottom Line
The Raptor Whisper could have been perfect with its enhanced IGT and SAT features, but many still consider this a noisy rifle. It is lightweight at 7.1 pounds and thus ideal for first-time users, hobbyists, and professionals alike. It is a quiet air rifle for backyard use.
What Makes an Air Rifle Quiet?
An air rifle is naturally noisy as it's powered by compressed air. When air is released, it creates a loud pop like popping the cork of a champagne bottle. This sound is too loud to scare your target away, and thus, efforts to reduce noise have been the primary concern of air rifle makers.
To control the noise of an air rifle, a noise-dampening system is used, which is built in the internal mechanisms of the gun. This suppressor system can make the loud pop into a hardly-noticeable "thunk." Different air rifle makers have different sound dampening technologies used, but this is the most popular.
Some air rifle makers recommend using different types of bullets like the pointed, wadcutter, round nose, and point to get the best results and with less noise.
Final Verdict: Quietest Rifle
From our list, the quietest rifle is the Gamo Whisper Fusion Mach 1. It is a well-made gun that's very quiet and accurate. And it is compatible with many types of pellets and comes with an efficient and powerful IGT (Inert Gas Technology) piston.
The IGT has replaced the regular spring power plant, which is now more convenient and silent. This new and improved cylinder enhances the velocity and perfects target penetration.
All these make the Gamo Whisper Fusion Mach 1 a right candidate for pest control, recreation, hunting and for target practice whether you're a pro or new to handling an air rifle.
Air Rifle Power Source
There are three different power sources of a regular air rifle. Air guns may be powered by CO2, providing medium-range power. A CO2 air rifle gun is perfect for active users as it allows you to perform fast and repeat shooting. There's no need to cock a CO2 in between shots.
Another power source is a spring-piston, which is ideal for single shots. It provides high output, but it depends on the type of spring used. These are more affordable to use than CO2 air guns because you only have to purchase the pellets or the BBs. This is why a BB gun supporting both pellets and BBs is a good choice.
Variable pumps are also used as an air rifle power source, and with this one, you can decide how much power you need. You can have a higher output according to the type of air gun you are using. Just like using spring pistons, you only need to purchase pellets or BBs then buy CO2 canisters.
Things to Consider Before Buying
Before embarking on the journey of purchasing a rifle, it's always wise to consider a few things. Some of these key points to think about include:
There are three basic types of air rifles, and the type determines the cost, ease of use, and handling. The first type is the spring-powered rifle, which comes with a crank or a lever that you pull in between shots.
As you pull the lever, this squeezes a spring, and this compresses it and will give it enough power to blast the pellet from the rifle when the trigger is pulled.
CO2-powered rifles use a small pressurized liquid carbon dioxide canister that propels the pellet when the trigger is pulled. This is the quietest type of air rifle and is also very accurate.
However, it is more expensive to maintain as you need to buy CO2 canisters and pellets. This type is also sensitive to cold climates as liquid carbon dioxide provides less power.
Meanwhile, pneumatic air rifles or pre-charged pneumatic rifles are equipped with a small cylinder that has high-pressure air through a pump or a tank. A PCP air rifle requires a firearms license to own and operate.
Here's more on types of air rifles.
Yes, you need specialized training to handle an air rifle safely and to shoot it correctly. Training or education has to be done in a safe setting and with the help of a professional. This training is essential for new rifle owners, no matter what type of air rifle they use.
Most training includes shooting, pointing, handling, storing, and gun maintenance. Air rifle training is done after a few days or weeks. Intensive training includes using the rifle for hunting, target shooting, and for sport, and all these are ready to prepare year after year.
Intended Use: Shooting or for Sport
Some air rifles are designed to work correctly for target shooting and may work poorly when used for pest control or hunting. Other guns are meant for sport and are designed to work more efficiently than different types. So consider the use of an air rifle according to your preference or needs.
Your air rifle will only be as good as its pellets, and thus you must take special care in using only genuine or branded pellets and BBs and not generic pellets. Generic pellets are indeed cheap but may not be compatible with your rifle, and these may even affect the way your air gun is used.
Benefits of a Quiet Rifle
A quiet air rifle is essential when you're hunting or using your gun for pest control. It won't startle your prey, and thus you will be able to focus better and get the best results. A quiet air rifle won't disturb your neighbors too, and therefore, you can use this in your backyard to kill pests and vermin.
Most quiet guns are easier to handle and are lightweight. With this design, a first-time user will find it easier to manage the gun and learn how to shoot with it. Finally, a quiet rifle is less intimidating, and thus, perfect for hobbyists, sportspeople, and outdoorsmen.
Frequently Asked Questions
Below are the most commonly asked queries regarding the quietest rifles on the market:
1. How loud is an air gun?
An air rifle is very loud with an average .177 caliber at 88 decibels at point-blank and 64 decibels at 50 yards. A .22 caliber is 90 decibels at point-blank and 69 decibels at 50 yards. To compare, other things at 88 decibels are food blenders, a diesel truck at 40 mph, and a milling machine.
For more, check the difference between .177 vs.22 pellets.
2. How loud is a 22LR?
A .22LR is louder than an average air rifle at 85 to 100 decibels
3. Which is the quiet pellet gun for rabbits?
We recommend the Gamo Whisper CFR air rifle, a quiet air rifle, that can instantly and accurately kill pesky rabbits in your garden.
4. Who makes the quietest air rifles?
Gamo has the widest variety of quiet air rifles in the market. Aside from being silent, these rifles are also accurate and are lightweight compared to other models.
Final Words
You need the quietest air rifle whether you're hunting, target practicing or removing pests in your yard or garden. Silent guns are more efficient, accurate and are easier to handle, but make sure to consider the specs and special features of the rifle you want to buy beforehand so you'll have an air rifle that's right for you.