During competition shooting, hunting, or plunking, your sole objective is to hit the target. Four crucial elements dictate your ability to hit a specific point with precision, and little or no margin of error.
These elements include your air gun, the mounts, the ammunition, and of course, the firing scope.
So how do you increase your chances of achieving the desired results? It's simple. You need to ensure that there are no weak links within this chain.
More often than not, the ammo is to blame for your inability to satisfy your craving for precision. Be with me, and I'll share with you the best .177 pellets for accuracy.
TOP 5 .177 Pellets for Hunting and Accuracy:
Before further gossip, here's a shortlist of my TOP choices.
Preview
TOP Choice
Viable Option
Small Game Hunter
Shape
Cross shaped hollow point
Built for
Hunting Small Vermin and Bird Game
Best Pellet for Small Game
TOP Choice
Preview
Viable Option
Preview
Shape
Cross shaped hollow point
Built for
Hunting Small Vermin and Bird Game
Small Game Hunter
Preview
Built for
Best Pellet for Small Game
Our 5 Best .177 Pellets for Hunting Accuracy
We have done all the research on your behalf to make your search for the top .177 caliber pellets easier. Dive in, and let's review the top 5 products in today's market.

Let's begin by checking out air rifle pellets from a trusted brand. Find them on Amazon here.
PROS
Pointed hollow points for enhanced speed and precision in target practice
Pellet design ensures one-shot kills (it pierces and shatters the target)
Perfect for hunting and pest control
750 pellets in pack
CONS
Gamo is one of the most popular producers of airgun pellets, and you can trust its products to cater to your hunting and competition needs. If you have a thing for precision ammunition, this is a brand you can always trust.
The design of the Tomahawk model offers you about 20% higher velocity compared to ammo with lead. These air gun pellets are highly preferred because they are lead-free for better speed and have a copper layer for enhanced impact power.
Also, the shape of the ammo provides aerodynamic benefits, giving you enhanced flight properties. That pointed tip makes this the best ammo for general field usage. The accuracy and speed of these air gun pellets assure you of making one-shot kills, and this should give you an edge during competitions.
If you need more precision, check the most lethal .177 pellet here by Gamo.
One downside that cannot go without mentioning is that a package comes with only 750 pieces (you'll want to shoot them all!). If you shoot a lot, then you may want to order several packages. Apart from this, you get a reasonably good deal and the perfect ammunition for your hunting sprees. Check price on Amazon.

If you are more into hunting small game, you may find hollow point pellets to be better than their pointed counterparts. Find them on Amazon here.
PROS
Designed for unmatched accuracy
Impressive knockdown power
Designed for target shooting and hunting small game
Ideal for close-range shooting target practice
Well-engineered pellets with consistently high quality
CONS
For outstanding results, you must use a high-powered air rifle
The deal is that these kinds of pellets have reliable impact power, but do not penetrate deep into the target. They also have impressive accuracy at 60-100 ft. This is one of the heaviest 177 pellets available on the market.
The construction of these air gun pellets is consistent, and their form and weight assure you of the best hunting experience. They have decent weight, and this keeps them steady in the air, even when the conditions are windy.
This is the best ammo to use for hunting skunks, rabbits, and squirrels. It delivers maximum knockdown power to kill small animals humanely. You will also find the ammunition to be quite useful for target practice at close range.
We used ballistic soap to test these air gun pellets, and the results we achieved were quite impressive. Thanks to the aerodynamic properties of the bullets, the cross-shaped hollow tips hit the target with high energy. The speed and stability of the ammo also helped to ensure extreme accuracy.
One shortcoming I noted is that the ammo works best when using a high-powered air rifle. In case you only have a hand-held air pistol, the pellets will still work well, although not as impressively as they would when using a powerful rifle such as the Gamo Magnum. Check price on Amazon.

Support me on this one; a little drama when blowing up varmints is good for the soul. Check details on Amazon here.
PROS
Impressive visual and sound effects
Great accuracy for short-range shots
Excellent aerodynamics
The pellets retain maximum kinetic energy at short ranges
Affordable
CONS
One package has only 250 pieces
Farm work is hard work. I once had a squirrel problem, and no words can describe how frustrating it was to find my grain scattered in the barn, eaten, and peed on by a whole scurry of the creepy crawlies.
It is hard to deny that the loud bang that was produced as I made my number one enemies scatter was awesome!
The sound and visual effects of these air gun pellets will make your plinking and competition shooting games more thrilling. I mean, these are pellets from Russia and I don't think we would expect anything less from them. The only downside is that each package has a mere 50 bullets.
Trust me; you need more air gun pellets to quench your shooting thirst. You hear the bang as soon as your pellet hits the target, followed by a bright flash that's about 50mm in diameter.
Let's say that this is fun to use ammunition that can make your hunting, plinking, and target shooting adventures more enjoyable, especially at night. The accuracy of this ammo is excellent, particularly for short-range shots.
To enjoy the best results, make sure you are using a pneumatic weapon with a muzzle energy of not less than 7.5J/800 FPS making it one of the fastest 177 pellets. Check price on Amazon.

If you need affordable ammo for indoor use, the RWS R10 match grade pellets are your best bet. Find them on Amazon here.
PROS
Heavy 8.2 grain for enhances stability in air
Designed to ensure maximum performance and accuracy
Ideal for target shooting and hunting
Well-engineered for consistent results
The surface finish of the ammo prevents oxidation
CONS
These pellets contain lead
They have a wadcutter design making them ideal for target shooting. The main reason we had to list these air gun pellets on our review is the fact that they have a unique surface finish and optimized weight.
This ensures they deliver maximum accuracy and performance, making them excellent for competition level-target shooting.
The quality of each pellet is uniquely consistent. This reduces the frustrations caused by inconsistent results during shooting competitions. I also like the fact that they have a diabolo shape with larger ends and a thin waist area for better stability in the air. The design of the ammo also makes it ideal for hunting.
These lead pellets contain about 8.2 grain. They are just heavy enough to remain stable in the air, irrespective of whether it is breezy or not. The stability of the ammo enhances its accuracy, and this product has an unfailing shot placement.
Lead pellets are not bad, although they are not the best. It is best to know beforehand that this pellet contains lead. Check price on Amazon.

The last product we will review is one that will give you a break from having to worry about the performance of your pellets. Check them on Amazon here.
PROS
Pellets designed for accuracy, precision, and versatility
Perfect for long-distance ranges and pest control
Can be used for hunting games as well as target shooting
An ideal choice for air rifles or pistols with lower muzzle energy
Comes with a screw-on lid to prevent pellet spills
CONS
These .177 caliber pellets contain lead
H&N Baracuda pellets are a worthy investment because of their consistency and accuracy. They have 10.65 grains, which slows down their velocity for a quieter explosion.
However, a suppressed air rifle can reduce the noise level even further.
As I earlier mentioned, I am a die-hard fun of pellets that give sound and visual effects. Needless to say, this has got me into loggerheads with my neighbors from time to time. This product is my top choice during those moments when I want to have uninterrupted target shooting sessions.
These pellets do not break the sound barrier when shot. They are hence perfect for shooting competitions and hunting games because they can stay on course from the instant they are fired until they hit the target. This is an advantage that will work in your favor when competing.
Also, the round nose shape of the pellets gives them outstanding aerodynamic qualities. They resist wind and have enhanced ballistic coefficient to make them ideal for hunting small game.
This product will not let you down if you are in search of versatility, consistency, and accuracy when shooting over long distance ranges. Check price on Amazon.
Things to Consider Before Buying .177 pellets
The markets are saturated with all kinds of .177 bullets that offer reasonably good accuracy and performance. To make your buying process easier, here are the most vital aspects to consider before purchase.
This is arguably the most crucial aspect to keep in mind. The weight of an airgun pellet has a unique way of affecting flight stability, trajectory, higher velocity, and terminal performance. Heavier ammo can maintain its energy, even when shot over long distances.
And heavy pellets indeed remain stable, even in breezy conditions. This, in return, increases your chances of hitting your target. However, you must ensure that your air gun's power and capabilities can accommodate heavier ammo.
If you are into hunting, then your number one priority is to hit your target. In this case, it makes more sense to choose a .177 pellet which has a flatter trajectory and is lighter when compared to other pellets of the same design and shape.
If the speed of hitting your target is of the essence, considering the velocity of a pellet is crucial. To achieve the best outcome, find non-lead ammo because they tend to be lightweight. This ensures they shoot out of your air guns at maximum speed.
Currently, most pellets have the diabolo shape, which enhances their stability in the air. They are larger on both ends, and the waist area is relatively thinner. It is the shape of the head that determines the primary use of a pellet.
For example, wadcutter pellets are excellent for target shots, while pointed and hollow point bullets are the best option for game hunters. It is best to choose the shape of pellets based on the tasks you intend to perform. Moreover, ensure your pellet of choice matches effortlessly with your air gun's bore size.
This dictates the hardness or the softness of a pellet. It helps to ensure the desired outcome is achieved humanely, especially when hunting. All the pellets mentioned here are alloy pellets. The difference is in quality.
The pellet energy can also be referred to as the knockdown power. If you want higher penetration power, it is best to use the pointed pellets. On the other hand, hollow pellets expand on impact, and this makes them ideal for most hunting tasks.
Takeout Points for 177 Caliber Pellet Selection
There are basic rules you must respect when choosing the right pellets for a specific air rifle. First, you must use lighter bullets if you use a lower-powered air gun. On the other hand, heavier pellets are an ideal option when using magnums or higher-powered air guns.
Here's a list of some powerful pellet pistols or air pistols you can look for. Please remember .177 pellets are not quite suitable for BB guns those are specifically designed for BB ammo.
Any seasoned air gun shooter will tell you for free that ammunition is cheap. At the very least, buying ammo is the most inexpensive aspect of hunting, plinking, or target shooting. It will not cost you a fortune to experiment with different pellet types to find the ideal one for your air rifle and applications.
You can also check the difference between .177 vs .22 pellets in this article.
Different Types of Pellets and Which is Best for Accuracy
It's this simple; you need to find pellets that are ideal for your airgun. Different types of pellet shapes are available in the markets, and currently, those made of lead tend to be both affordable and effective.
Let's go through some of the most popular types of pellets that differ in weight, caliber, and shape. We will also learn about their specific applications.
Wadcutter pellet heads are flat with a small slope at the edge. For years, they were considered the most accurate and were hence used during target competitions. Pointed pellet designs have, however, advanced tremendously over the recent years, making them the most preferred for target shooting.

Just like pointed pellets, wadcutters offer maximum velocity and are lightweight. They are cheaper, and airgun manufacturers typically use them when testing their weapons. If you engage in short-range plinking or target shooting, the wadcutter design will come in handy.
These are the ideal pellets to choose if you shoot small game. When shot at close range, they inflict large wound channels, making them equally as efficient as hollowpoint pellets. For maximum accuracy and stability, ensure your field does not exceed 25 yards.
As the name suggests, pointed pellets have pointed heads. They can penetrate deep into small animals and are mainly ideal for field use and hunting.
This type of hunting pellets have waists that are larger in diameter, and this design helps to increase their weight while at the same time ensuring proper weight distribution from the front to the rear.
When compared to the wadcutter, pointed pellets have shorter skirts. Some have forward driving flat bands right in front of the waist, and this increases the rifling engagement area.
And this, in return, enhances accuracy, ensures the velocity is not compromised and increases the pellet-to-bore friction during long-range shooting.
I had mentioned earlier that it pays to find pellets that are ideal for your airgun. In case you own a standard velocity air pistol or rifle, it is best to choose pointed bullets that do not have forward driving bands. Another alternative you may consider to enjoy more accuracy is the hollowpoint pellet design.
In a wrap, pointed pellets are a top choice for hunters. They kill small animals in one shot and also happen to offer maximum accuracy.
On the downside, they cost considerably more than wadcutters and are not ideal for indoor targets because they are very destructive. For indoor plinking and target shooting, wadcutter pellets are your best bet.
When studying a round head pellet, also known as domed pellet, you will notice that there is a protruding area, right in front of the driving band. This design helps to increase the overall weight of a pellet, decrease wind resistance, and also enhance the knockdown energy.
Modern airgun designs are more powerful and offer faster velocity. They pair well with round nose pellets that have heavier projectiles, which calculate into higher wind resistance and more retained kinetic energy at all ranges.
If you desire gratifying results when shooting at maximum ranges, perhaps 55 yards or more, the round nose pellets will not let you down.
The shape of hollowpoints is like an extension of the wadcutter design. This ensures better expanding of the pellet and guarantees one-shot kills when shooting at lower velocities over short ranges.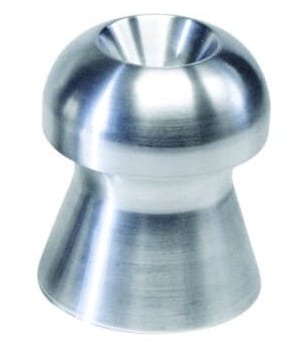 And the hollowpoint's shape also provides enhanced flight characteristics when compared to wadcutters, and better knockdown power than the round nose pellets.
I once needed to get rid of a bird problem on my property and used hollowpoints. The outcome was desirable when using low-velocity air rifles and air pistols. These pellets have better knockdown power to ensure one-shot kills without extreme penetration. You can use them for both plinking and hunting.
Frequently Asked Questions
Here we have some of the most commonly asked queries regarding .177 pellets:
[sc_fs_multi_faq headline-0="h4″ question-0="Are .177 pellets dangerous?" answer-0="The .177 caliber has unmatched speed, although it does not weigh enough to penetrate a human with ease. It is, however, vital to know that the pellet can kill a human if it hits soft parts such as the temple, jugular, throat, or eye." image-0="" headline-1="h4″ question-1="Are heavier .177 pellets more accurate?" answer-1="Heavier pellets are perceived to be more air efficient. However, they have slower velocities than lightweight pellets. On the bright side, they have more energy. If you are searching for better accuracy when shooting along longer ranges, heavier bullets are better than their lighter counterparts. You need to check different pellet shapes to find the appropriate one." image-1="" headline-2="h4″ question-2="Hollowpoint pellets vs. pointed pellets, which is better?" answer-2="It all depends on your objectives. If you are in search of better knockdown power, hollowpoint pellets are the best. On the other hand, pointed bullets offer higher penetration power when hunting." image-2="" headline-3="h4″ question-3="Can a 177 pellet gun kill a squirrel?" answer-3="Yes. 177 pellet travels from the steel barrel of pellet gun with approximately 800 feet per second. This is very powerful to kill a squirrel." image-3="" headline-4="h4″ question-4="How far will a .177 pellet go?" answer-4="A pellet of this caliber and moderate weight travels 400 feet on average. This totally depends on the weight of the pellet and the power of the gun." image-4="" headline-5="h4″ question-5="Can I use .177 caliber for hunting big game?" answer-5="The 0.177 .20 and .22 caliber are mainly ideal for small game. If you want to hunt big game with an air rifle, you are likely to need .50 caliber or .357 caliber. This will be effective in killing black bears and deer with one shot." image-5="" headline-6="h4″ question-6="What are the perks of using heavier pellets?" answer-6="Pellet weight affects impact power, aerodynamic stability, velocity, and trajectory. You will notice that heavier pellets remain stable even when the conditions are breezy. They are also highly preferred as hunting pellets because they retain their energy over longer ranges. This means they can hit the target harder and kill in a single shot." image-6="" count="7″ html="true" css_class=""]
Final Words
The above are the 5 best .177 pellets for accuracy. Before choosing the product to purchase, consider your primary objectives. After all, selecting pellets with the best knockdown power may not make any sense if you are a target shooter. To be on the safe side, consider the convenience of purchasing a range of pellet types. This should ensure you always have ammo that meets your requirements of hunting squirrel or rabbit.
Source: Wikipedia .177 pellets