Let's say you bought an air rifle for your nephew and would like to send it to him or need to send one back to the manufacturer because it's defective. Before you package it up, you should know the regulations for sending it. I have a few tips from personal experience.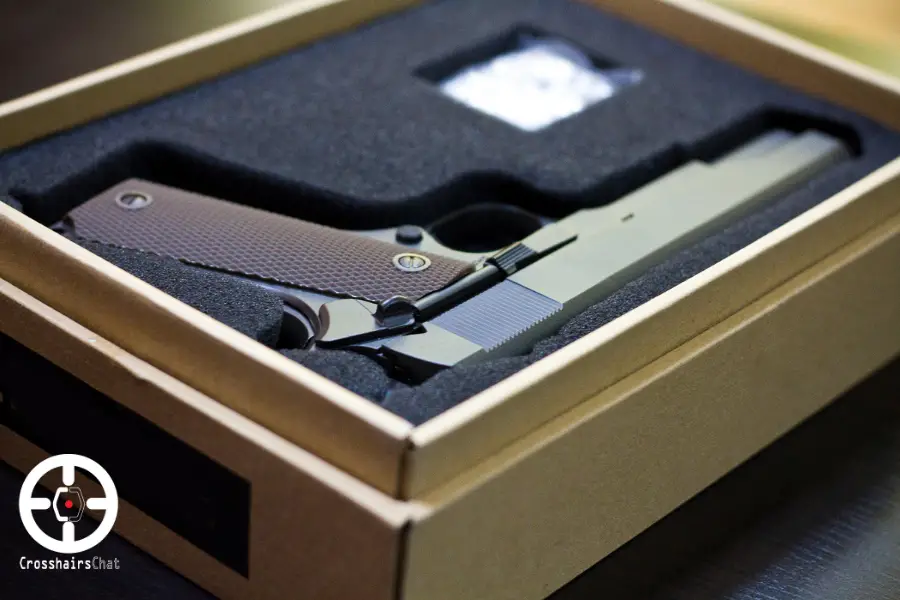 What You'll Learn in This Piece 
To simply answer whether you can mail an air gun air or ground shipping, it's legal and possible in most states. However, your gun needs to follow certain criteria. And you're responsible for knowing if you can ship it.
You may wonder if you can ship an air rifle in the mail, which will be discussed. Other questions you'll learn the answers to include the following:
Can you ship an air rifle via UPS
Can you send an air gun via FedEx 
Are there any special packaging rules you have to follow?
If You Buy an Air Rifle Online, Can You Ship it to Your House?
I can answer this from personal experience during the last holiday. If you order an air gun from a superstore, sporting goods store, etc, it'll ship right to your house without a problem.
There are also no additional fees or shipping costs associated with shipping it, just because it's an air gun. You can receive it through FedEx Ground, UPS Ground, or even USPS. There aren't any extra delays on it because it's a gun, either. 
Can You Mail an Air Gun?
You can mail an air gun depending on where you live, and it doesn't matter the circumstances. This means that you can send it for whatever reason.
Are There States Where You Can't Send an Air Gun?
I've dealt with this on a personal level. I tried to send an air gun to California when I sold it to a resident there and was surprised that I couldn't. This, however, isn't the only area that prohibits you from sending an air rifle or other similar gun through the mail. Here are the other cities/states that have restrictions against it:
Chicago
New York
Philadelphia
Washington DC
Why Might You Need to Mail Your Air Rifle/Airgun?
One reason you might need to send your air gun is you're selling it. You could also need to ship it if you're sending it to someone as a present. On the other hand, another reason you may need to send an air gun is if you're giving it to someone. In addition, you may need to send the gun back to a seller if you notice it has any issues. 
Can You Ship an Air rifle in the mail (USPS)?
Firstly, you can ship an air rifle in the mail in the states that allow it. And you'll be able to ship it only to states that allow air guns to be sent through the mail. 
As stated earlier, as long as the air rifle is shipped from licensed dealers, then just about any contract carrier will deliver it without any shipping restrictions (except for those states that don't allow them but the dealer should know that better than the shipping services).
You'll, however, need to include an adult signature service if the air gun has a velocity of 400 or more feet per second. An adult signature service means an adult at the house you send it to will need to sign for the package before it's deliverable. 
Keep in mind that the laws are different if you're sending the item to another country. 
Can You Ship an Air Rifle Via UPS?
The answer to this one isn't straightforward. You can't send an air rifle via UPS in states that prohibit you to send air guns. Additionally, you may not be able to send the gun if it's a privately owned UPS store. It would depend on their policies. You'll be able to send the gun from the regional location. 
There are limitations when sending air guns internationally. 
Can You Send an Air Gun Via FedEx?
You can ship air guns via FedEx domestically, as long as the state or city allows it. 
If you're sending the gun outside the US, make sure you look into the laws because some air guns can't be shipped and certain places don't let residents receive air guns.  
What Should You Do Before You Send an Air Gun?
Firstly, you'll need to remove any ammunition if it's a used gun. Any package delivery service will usually require that. In addition, any air gun you ship, whether you're selling it or not, will need to have an orange tip to signify it's not a real gun as a requirement by most shipping companies.  
As a general rule, when you go to ship it, you should carry the gun in either a case or bag.
Make sure you wrap the gun in plenty of foam or bubble wrap. This will protect the gun during transit. You may also want to have the package marked as fragile. When shipping a CO2 gun, remove the cartridge before sending it. If you have any accessories being shipped with the gun, package those separately to protect them. 
Be honest with your clerk about what you're shipping and follow the instructions carefully to avoid any problems. They'll let you know their rules. You won't have to complete any background checks.  
When sending internationally, research carefully. While air guns are legal in Puerto Rico, you may not send an air rifle there. Only law enforcement agencies or licensed gun dealers may ship air guns in Puerto Rico. 
Whether you send FedEx Ground or another shipping company, you'll need to pay for the shipping, and they won't accept personal checks. Therefore, you should bear that in mind. 
Can You Ship Other Types of Guns?
The rules for other kinds of guns vary greatly from state to state. For instance, in some states not listed above, BB guns and pellet guns classify as a hazardous material. Therefore, you won't be able to send them through any shipping method. Paintball guns usually have similar rules to other air guns, though it's best to research first since what personal effects you can send vary greatly.