A 2019 survey found North Americans captured 38.6% of the airsoft shooting sports market. That includes airsoft guns, ammo, optics, and other accessories. 
As the popularity of airsoft gunplay grows across North America, many participants have questions about legally obtaining and owning airsoft rifles, pistols, and ammunition. 
Can You Buy An Air Gun Online?
We have all become accustomed to the ease of online shopping. For airsoft guns, there are some restrictions you should know. 
You can buy an air gun online within specific guidelines. There are some legal restrictions on who can buy it and where it can be shipped.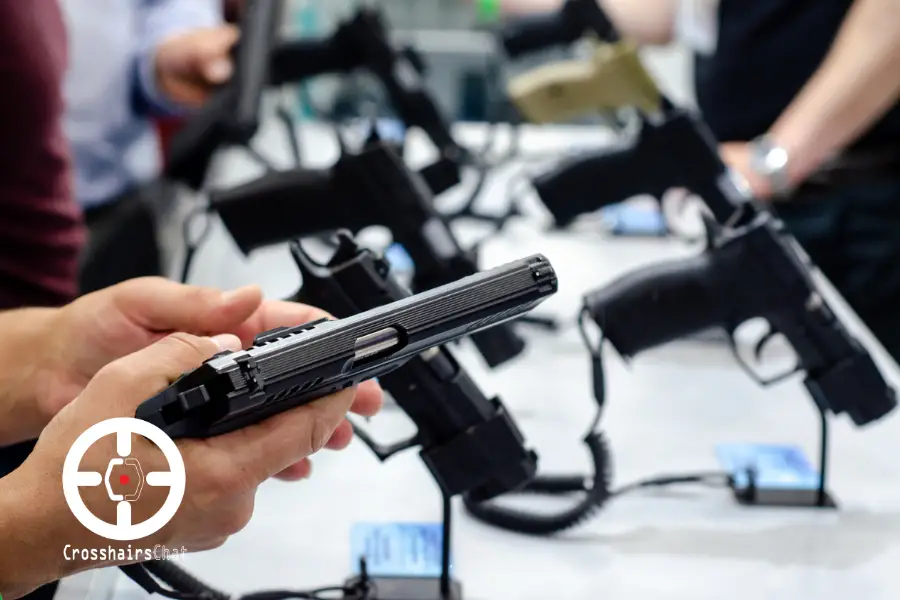 What Are The Regulations On Airsoft Guns?
While there are minimal federal regulations on airsoft guns, you need to check with your local law enforcement to assure you follow state and local municipal laws.
There are three federal restrictions on airsoft guns. 
The first is that only citizens 18 and older can purchase an airsoft gun. The federal government does not classify them as firearms, so there are minimal restrictions. However, state and local governments place further restrictions.
For example, in Maine, it is illegal to give an airsoft gun to anyone under the age of sixteen. It is always best to check with reputable local firearms dealers or law enforcement to find out your state and local laws about airsoft guns. 
The second restriction for all airsoft guns transported within or imported to the US concerns distinguishing these guns from real firearms. They must have at least a 6mm wide blaze-orange tip. 
Some local municipalities add the stipulation that airsoft guns must have "unnatural coloration" to further distinguish them from real firearms. 
It is illegal to remove the blaze-orange tip from your airsoft gun. 
Why Have These Restrictions On Airsoft Guns?
Such measures protect users from tragic consequences that may come from brandishing an airsoft gun that appears to be real. 
Many instances of mistaken police shootings involve airsoft guns that have been modified to appear more real. Many of the victims are under 18-years-old. 
In California, it is illegal to brandish a look-alike gun in public. Where an airsoft gun changed to look like a real firearm is used in a crime, the state prosecutors treat the case as if the gun were real.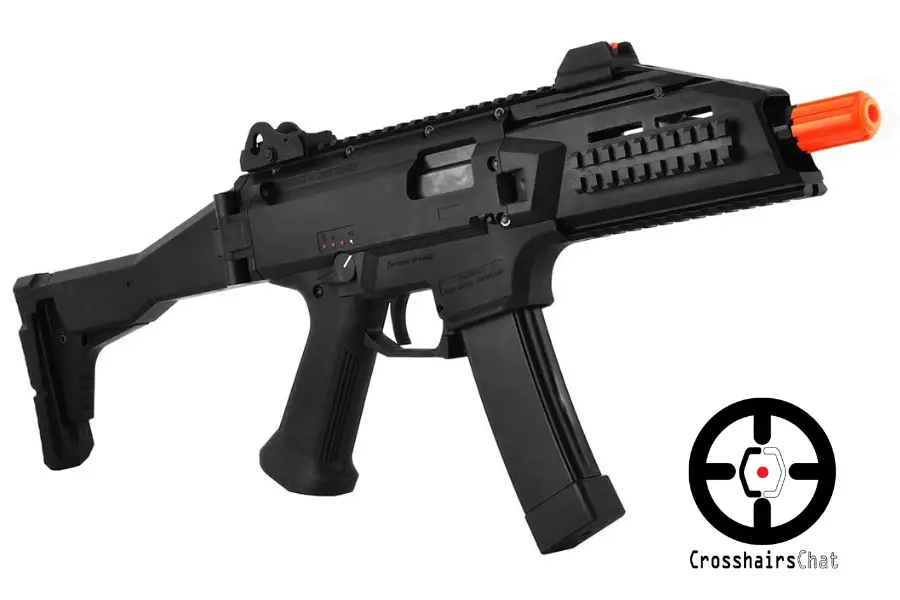 Are Airsoft Guns and BB Guns The Same?
No. BB guns fire metal projectiles, but airsoft guns fire plastic pellets. The laws governing each are different. Airsoft guns must have an orange tip, while BB guns do not. Some states treat BB guns the same as other firearms. 
Who Can Buy An Airsoft Gun Online?
Any citizen who is at least 18-years-old can buy an airsoft gun online. 
Do You Need a License for an Airsoft Gun?
No. Airsoft weapons are not classified as firearms by the federal government. The only federal requirement is that the buyer must be over 18-years-old. 
Do You Have To Prove Your Age When Buying An Airsoft Gun Online?
There is no way to verify age before you place your order. However, online retailers will require verification after you make your order before they ship it. You will probably need to upload a photo ID. If they cannot verify your age, then they will not ship your order. 
Other online retailers will state that making a purchase implies that you have agreed to the terms and conditions of their site. Here, it is totally on you to assure that you are complying with the law.
It is best practice to always assume the responsibility to comply with all laws and regulations governing airsoft guns. A reputable firearms dealer or local sheriff's office are excellent resources for this information. 
Can You Ship An Airsoft Gun?
Most online retailers have policies to keep them out of liability for a purchaser making a mistake. It is on you, the customer, to make sure that you are following state and local laws governing airsoft guns. 
They won't ship to a state or city where they know airsoft guns are illegal or highly restricted. Many retail sites state in their shipping policies they will not ship internationally, or to APO or FPO addresses, or the freight forwarding companies. It depends on who you buy from. 
New York City, Washington D.C., Chicago, and San Francisco have banned airsoft guns. It is illegal to brandish a look-alike gun in public in California. Delaware and Illinois banned air guns that shoot .22 caliber and greater. 
You can only ship a pre-charged pneumatic (PCP) gun within the US via ground services. 
Can You Ship An Airsoft Gun To An APO or FPO?
International shipping has many variables. Some online airsoft gun retailers will ship internationally and to APO and FPO addresses. 
Every country has different laws concerning importing airsoft guns. Depending on what is allowed either on military bases or generally will affect whether you can ship there. 
What Is A PCP?
PCP stands for pre-charged pneumatic. These are air guns that have a reservoir for compressed air that the user fills with a separate tank or pump. 
Rather than needing to pump for every shot, the reservoir holds enough air for multiple shots. There are several types of mechanisms within PCP guns that release the air for each shot. 
What Are The Restrictions On Airsoft Ammo?
You should know that there is a difference between metal bbs and ammo for airsoft guns. Using metal bbs in your airsoft gun can cause wear and tear on the barrel. Many airgun play locations do not allow you to use metal bbs because they are more prone to break the skin than plastic. 
You can purchase bbs and pellets online. There are a few states and cities that place extra restrictions on ammunition for airsoft guns. Check with law enforcement or a trusted firearms dealer to find out the regulations on bbs and pellets.